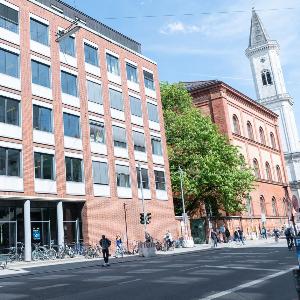 News overview
All news at a glance.
Harvesting more solar energy with supercrystals

Hydrogen is a building block for the energy transition. To obtain it with the help of solar energy, LMU researchers have developed new high-performance nanostructures. The material holds a world record for green hydrogen production with sunlight.

DFG funding for LMU physicist

Dr. Jad C. Halimeh was awarded 1.5 million euros in research funding through the German Research Council (DFG) Emmy Noether program.

The light of distant worlds

Dark Energy: Euclid space telescope delivers first scientific images - Researchers from German research institutes are excited

Coupling light and matter

LMU-Researchers have developed a metasurface that enables strong coupling effects between light and transition metal dichalcogenides (TMDCs).

Snapshots of photoinjection

Ultrafast laser physicists from the attoworld team at LMU and the Max Planck Institute of Quantum Optics have gained new insights into the dynamics of electrons in solids immediately after photoinjection.

Beyond the limits of light

The research team led by LMU physicist Ralf Jungmann is using a new technique to enhance fluorescence microscopy to the Ångstrom scale.

Keeping time with an atomic nucleus

Nuclear clocks could allow scientists to probe the fundamental forces of the universe in the future. LMU researchers have made a crucial advance in this area as part of an international collaboration.

DFG grant for physicist

Space plasma physicist Elena Kronberg has been awarded a DFG research grant through the Heisenberg program.

Proteins set vesicles in motion

Biophysicists have designed a new cell-like transport system that represents an important milestone on the road to artificial cells.

Two LMU researchers awarded HFSP grants

Dieter Braun and Christof Osman, together with international partners, have each received funding worth around a million euros from the Human Frontier Science Program.

New ERC grant

Early-career scientist at LMU obtains prestigious Starting Grant from European Research Council for work on metasurfaces.

The right twist

Stacked layers of ultrathin semiconductor materials feature phenomena that can be exploited for novel applications.

Droplets in motion

LMU physicists investigate the dynamics of active protein droplets in cells.

Life on distant moons

Free-floating planets do not orbit a sun. Their moons may still have liquid water, and thus the basis for the emergence of life. Munich-based researchers have now determined the necessary properties.

When the invisible was made visible

Wilhelm C. Röntgen died in Munich 100 years ago, on 10 February 1923. We talk to historian of science Kärin Nickelsen about the discoverer of X-rays.

Simulation of superconductivity

A Munich team of researchers has for the first time monitored in an experiment how positive charge carriers in a solid-state model combined to form pairs. This process could play an important role in understanding high-temperature superconductivity.

The magic angle

LMU physicists have uncovered mysterious properties of twisted trilayer graphene

Breakthrough of the Year 2022

The Physics World magazine has chosen the recent research of Dr. Marcus Ossiander and Dr. Martin Schultze as one of the top ten breakthroughs of 2022.

More control over plasma accelerators

Physicists at the Centre for Advanced Laser Applications at LMU Munich have combined two plasma-based methods of particle acceleration for electron beams.

Forgetting visualized in brain cells

LMU physicist Paola Coan presents new imaging technique that allows brain cells of mice suffering from Alzheimer's disease to be visualized in previously unattained quality.

Light-driven molecular swing

Scientists at the LMU and the Max Planck Institute of Quantum Optics have used ultrashort laser pulses to make the atoms of molecules vibrate and have gained a precise understanding of the dynamics of energy transfer that take place in the process.

New tools for climate monitoring

Equipped with novel instruments, research flights over Canada are furnishing data about the emission of greenhouse gases. LMU physicists are playing a major role in the surveys.

Exploring new worlds

LMU physicist Immanuel Bloch has been named Clarivate Citation Laureate for his pioneering research in the field of quantum simulation.

Precise disorder

The material graphene and a magic angle: physics with a new twist

Pumping up the music of molecules

Laser physicists have used an optical resonator to amplify the characteristic vibrations of molecules excited by laser pulses in such a way that their identification becomes possible even at very low concentrations.

Quantum cryptography: Hacking futile

An international team led by LMU physicist Harald Weinfurter has successfully implemented an advanced form of quantum cryptography for the first time. Encryption is more secure against hacking attempts.

A microwave freezer for molecules

A team led by quantum physicist Immanuel Bloch has developed a new method to cool gases of polar molecules to near absolute zero. This paves the way for studying quantum effects of exotic forms of matter.

Photographing a light helix

With their newly developed "nanoTIPTOE" technique, physicists from LMU and the Max Planck Institute of Quantum Optics managed for the first time to record a helical light field on shortest time and length scales.

Record entanglement of quantum memories

Researchers have entangled two quantum memories over a 33-kilometer-long fiber optic connection – a record and an important step toward the quantum internet.

DNA with a twist and a pinch of salt

A team of biophysicists led by prof. Jan Lipfert has measured how the twist of DNA depends on the concentration and type of ions in its environment.

Light-Controlled Reactions at the Nanoscale

Physicists at LMU and the Max Planck Institute of Quantum Optics have used for the first time laser light to control the location of light-induced reactions on the surface of nanoparticles.

A tug-of-war with corona

How stable are the bonds formed by coronaviruses with human cells? Researchers from LMU have designed a new assay to find out – and to investigate drugs made to prevent the virus from binding.

The first stages of DNA evolution

Droplets of dew water on the primordial Earth could have been the first compartments to host the replication of short DNA molecules and their evolution.

Revealing the conformational landscape of nucleosomes

A team of scientists led by Professor Jan Lipfert have developed a high-throughput pipeline to image nucleosomes using atomic force microscope imaging to reveal the conformational ensemble of nucleosome structures.

Sensing light

Physicists of the attoworld-team at Ludwig-Maximilians-Universität have uncovered what happens during the sampling of a light field. This helped them increase the sensitivity of the measurement by up to one order of magnitude.

Prestigious award for Ferenc Krausz

Professor Ferenc Krausz has been awarded the prestigious Wolf Prize in Physics. The Hungarian-Austrian physicist receives the prize for his pioneering contributions to ultrafast laser science and attosecond physics.

Early bird

The attoworld group reports in a video on the research results to date of the BIRD project.

Four new ERC grants at LMU

Four talented early-career researchers have obtained prestigious starting grants together with LMU from the European Research Council.

A Cold Pair of Mirrors Made Stable

A team of scientists from the Ludwig Maximilian University of Munich and attocube systems AG have engineered a Fabry-Pérot cavity at cryogenic temperatures under closed-cycle cooling conditions. The results have been published in PRX Quantum.

From pixel to universe and back

Astrophysicist Daniel Gruen is using artificial intelligence to explore the cosmos. He accepted a professorship at LMU's Faculty of Physics in summer 2021.

Discovering the origins of life

On the moment when something entirely new emerged from inanimate matter: The CRC "Emergence of Life" and the Deutsches Museum developed the game AEON.

Make carbonate not carbon dioxide

LMU scientists at the Nano-Institute Munich developed a technique to avoid CO2 in energy conversion processes with carbon-containing fuels

In his element

LMU Nobel Prize winner Theodor Hänsch turns 80. The physicist talks about his most important discoveries, but also about exploding chemicals, pink laser guns and his encounters with Steve Jobs and Bill Gates.

Structure formation in mini-organs

The development of alveoli in organoids derived from mammary-gland tissue follows the same physical principles as the formation of discrete droplets in a water jet.

Modeling the Universe with data

Space and time encoded in 320 million Megabytes: LMU astrophysicist Klaus Dolag uses simulations to study how the cosmos evolved.

Honor for Prof. Emiliano Cortés

Prof. Emiliano Cortes, W2 tenure-track Professor at the Chair of Hybrid Plasmonics at the Faculty of Physics, has been selected for a special issue of "2021 Emerging Scientist".

First ATLAS New Small Wheel nears completion

On 28 May 2021, teams of physicists and engineers installed the final "wedge" of the first ATLAS New Small Wheel detector. This was an important milestone for the Collaboration, in preparation for the wheel's installation in the ATLAS cavern later this s

Two models, one analysis

Just in time for this year's "Rencontres de Moriond" conference, The ATLAS collaboration released two new results with searches for the supersymmetric partners of the top and the bottom quarks. These searches have been carried out in the group of Dr. Ale

ERC Starting Grant for Dr. Friedhelm Serwane

What role do mechanical forces play in the development of neural networks, such as the human retina? – This question will be tackled by Dr. Friedhelm Serwane and his new ERC funded research group at LMU, starting in September 2020.