Your way to a doctorate
Dear doctoral candidates and all those who want to become one, here you will find all information about doctoral studies at the Faculty of Physics. We will answer your questions and accompany you on the way to your doctorate!
First Steps
Are you thinking about a doctorate? First of all, think about the field of research in which you would like to work! The choice of your doctoral topic is of central importance, because those who research with enthusiasm will reach their goal in the end! At the Faculty of Physics a PhD is possible in the subjects astronomy, meteorology and physics (only available in German).

Afterwards, you should find a supervisor for your doctoral project who is authorized to conduct examinations. Looking specifically for PhD positions and finding out about structured PhD programs can also be very helpful.

Contact one of our researchers directly. Information on subjects and research areas as well as an overview of professors can be found in the research section.
A 5-year Master's degree with at least the grade 'good' or a 3-year Bachelor's degree with the grade 'very good' is required for admission to the doctoral program.

Administrative
We are glad to assist you with all administrative steps - from the admission and submission to the defense of your dissertation. You will find all important information below.
All legally binding regulations can be found in the current version of the examination regulations - these and possible amendment regulations are available for download here (PDF, 130 KB).
Congratulations!
Congratulations on your doctorate! You have your doctorate in your pocket. We would like to celebrate this together with you and invite you to the graduation ceremony of the Faculty of Physics, which once a year gives a festive farewell to all graduates of the previous academic year.

Theodor Hänsch PhD Award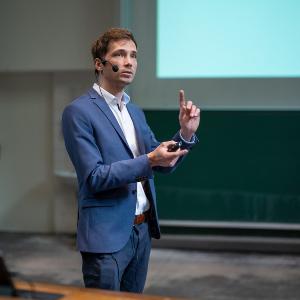 Joannis Koepsell is awarded the Theodor Hänsch PhD Prize from the LMU Faculty of Physics for his outstanding dissertation entitled "Quantum simulation of doped two-dimensional Mott insulators".
Read more...

The Theodor Hänsch PhD Award is donated by the Wilhelm and Else Heraeus Foundation for the Faculty of Physics and is endowed with 4,000 euros. It is named after Professor Theodor W. Hänsch (Nobel Prize winner in 2005) and is intended to recognize particularly outstanding dissertations in the field of physics. The prize is awarded once a year during the graduation ceremony of the Faculty of Physics.