Graduation Ceremony
Due to the current situation because of the Corona virus (SARS-CoV-2) and the associated restrictions, the graduation ceremony 2021 could unfortunately not take place. Up-to-date information on the graduation ceremony 2022 will be communicated here in due time. Please feel free to drop by again!
If you have any questions about the event, you can reach the organization team at absolventenfeier@physik.uni-muenchen.de.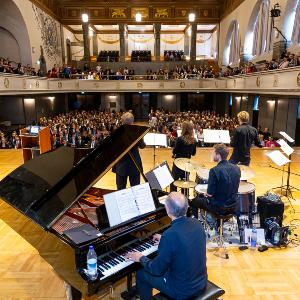 Dear graduates,
We would like to take this opportunity to congratulate you on your successfully completed studies or doctorate at the Faculty of Physics of the Ludwig-Maximilians-University Munich.
We would have been delighted to celebrate this important event together with you in the LMU's Great Hall as part of the graduation ceremony. We are very sorry that this is unfortunately not possible due to the given circumstances.
With the following greetings we would like to wish you all the best for your future professional and private life!
Your graduation team
Greeting to all doctoral graduates from the Dean of the Faculty of Physics, Prof. Dr. Ralf Bender
Greeting to all Bachelor, Master and teacher graduates from the dean of studies of the Faculty of Physics, Prof. Dr. Jochen Weller