Graduation Ceremony 2023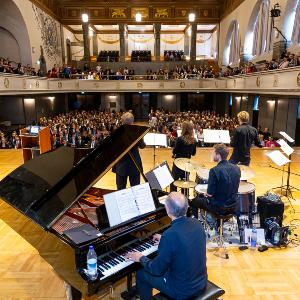 Dear students,
Congratulations on your graduation!
The graduation ceremony for students who graduated in the winter semester 2021/22, summer semester 2022 or winter semester 2022/23 will take place on Thursday, May 25, 2023 from 4:00 p.m. - 7:30 p.m. in the LMU Great Auditorium (Große Aula).
In addition to the festive speeches of the Dean and the Dean of Studies of the Faculty of Physics, the ceremonial presentation of the graduation certificates* will take place. In addition, selected graduates of the faculty will present their theses. As a conclusion, the graduates and their guests, as well as the members of the Faculty of Physics are invited to a small champagne reception. The exact details of the event will be sent to the registered graduates by e-mail in due time.
* Please note that the certificate handed out at the graduation ceremony is not the official graduation certificate.
Registration for the graduation ceremony 2023 is closed!
If you have any questions about the event, you can reach the organization team at absolventenfeier@physik.uni-muenchen.de.