Greeting to all doctoral graduates
Dear graduates,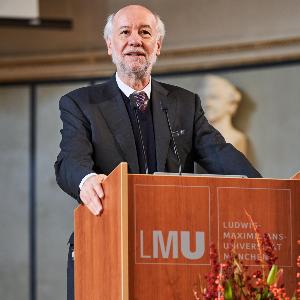 You have come a long way. Over the past few years, you have worked intensively on an exciting research topic as part of your dissertation, spent many hours in the lab, studied papers or worked with the computer. You have exchanged ideas with other scientists and have hopefully been able to present your work to a professional audience, even if this is difficult in these times. Finally, you have put the results of your research on paper in a demanding process in your dissertation and publications.
Due to the Corona pandemic, the last two years in particular have not been easy. You might have wished for more personal contact with colleagues to exchange ideas about your work. You had to cancel meetings and hold meetings and discussions via videoconference. Your research had to be adapted to the new circumstances. Even though this may have made working on your dissertation more difficult, you have hopefully emerged from this stage of your life even stronger.
Now you have finally reached your goal and have mastered your doctorate in the winter semester 2020/21 or summer semester 2021 together with other doctoral candidates of our faculty.
With your doctorate you have taken another important step in your professional life. You have proven that you are able to critically analyse and connect complex issues on the basis of in-depth specialist knowledge and strategic thinking, and to present and communicate these in accordance with academic standards. These skills distinguish you as a researcher and will help you immensely in your further professional life.
You can be very proud of what you have achieved!
On behalf of all the members of the Faculty of Physics, I would like to congratulate you on your successfully completed doctorate and wish you every success and all the best for your future career, be it in industry, business or as a scientist.
Prof. Dr. Ralf Bender (Dean)