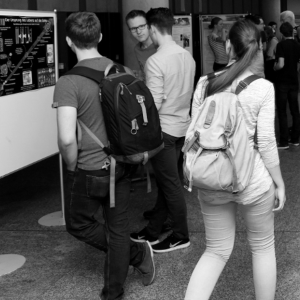 Where will I write my Bachelor's thesis? Where my Master's thesis? What research areas are there at my faculty?
The Physics Science Fair offers answers!
A short lecture series and a poster session offer insights into the various chairs, working groups and research areas of physics at the LMU. Informal conversations with doctoral students give you the opportunity to get to know different research areas, ask questions and get a first orientation for the further course of your studies.
The date when the next Physics Science Fair can take place is still unclear due to the current situation. It is planned for the winter semester 2021/22. An exact date and all details about this year's Physics Science Fair will be announced here. So please feel free to visit us again soon!
The Fachschaft and the team at the Study Affairs office lehre@physik.lmu.de are looking forward to welcoming you!